Podcast: Play in new window | Download (Duration: 1:07:23 — 61.8MB) | Embed
Subscribe: Google Podcasts | Email | RSS | More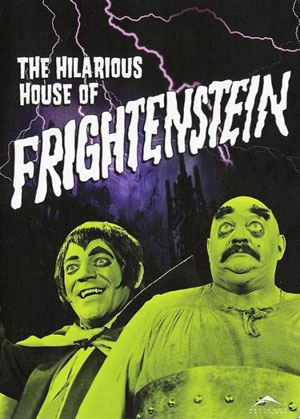 Mitch Markowitz, the associate producer, head writer and one of the stars (Super Hippy, The Mosquito) of The Hilarious House of Frightenstein, is the special guest on this episode of the Really Awful Movies Podcast.
A quirky sketch comedy for kids, all 130 episodes were made in a nine-month span starting in 1971.
The show was done in Hamilton, Ontario (think Pittsburgh, but less glamorous) and for reasons that will become clearer, became an unlikely, long-running, multi-generational global hit.
Horror icon Vincent Price starred in introductions for the show's various segments. The legend had always wanted to work on a project for kids [interested listeners can check out our interview with Victoria Price, Vincent's daughter]
The legendarily prolific hard-working Price, filmed all of his nearly 400 segments in four days for a fee of $13,000 and did it all in one summer to boot.  
On Canadian TV stations, the show generally aired as a children's show in an after-school or weekend morning time slot. In the United States, however, many stations aired it in a late night slot aimed primarily at college students. That's not an indictment of our respective educational systems!
Growing up in Toronto, the authors of this site couldn't help but be intrigued by the weirdness, the audacity, and the transgressive nature of this little show.
On this episode of the Really Awful Movies Podcast:
Markowitz discusses the origins of The Hilarious House of Frightenstein,
Markowitz also discusses Vincent Price's humility and kindness on the set, and "writing scary" for Mr. Price,
The inspiration for Austin Powers' Mini Me character
how Markowitz enlisted the help of Ryerson University students to write the show, and
penning sight gags for kids.