Podcast: Play in new window | Download (Duration: 26:05 — 29.9MB) | Embed
Subscribe: Google Podcasts | Email | RSS | More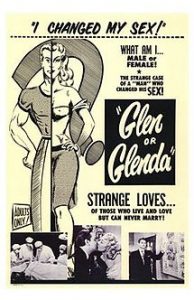 The strange case of a "man" who changed his sex!
Glen or Glenda is a tepid but ahead of its time oddball docudrama, written and directed by Ed Wood, who also stars.
The 1953 flick features the one and only Bela Lugosi, as well as Ed Wood's then-girlfriend Dolores Fuller and Lyle Talbot (best known for his lengthy stint on The Adventures of Ozzie and Harriet)
Author/critic Leonard Maltin said this was "possibly the worst movie ever made" and yes, it's plenty ridiculous and didactic, and there are bizarre fantasy sequences, the cliche of a newspaper headline as exposition, some pretty bad performances – but to broach transvestism as topic in the height of the Father Knows Best era shows how incredibly brave Mr. Wood was. And this is something often forgotten when the man's thrown under the bus as the worst director of all time (he's up there, but on the medal podium).
Alternately released as I Changed My Sex and I Led Two Lives, Glen or Glenda follows the structure of a 50s educational film as Ed Wood (Glen) struggles with his sexual identity while Lugosi (The Scientist) narrates. John Waters introduced Johnny Depp to the work of Ed Wood, including this film, Glen or Glenda, undoubtedly a key factor when the actor chose to accept Tim Burton's offer to star in the Wood biopic.
Check out www.reallyawfulmovies.com for more genre film reviews.