Podcast: Play in new window | Download (Duration: 32:32 — 37.7MB) | Embed
Subscribe: Google Podcasts | Email | RSS | More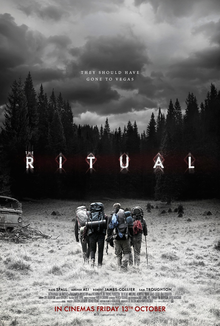 The Ritual is a UK lost-in-the-woods horror, set in Sweden and filmed in far cheaper Romania.
A group of laddish UK fellows are mulling over different vacation options while guzzling pints in a pub. They consider the usual suspects – Vegas, Amsterdam – and settle on hiking in Scandinavia.
Unfortunately, one member of the group, after a night of boozing, is victim to a convenience store robbery gone wrong. He's murdered in cold blood.
The friends, in a tribute to the deceased, opt for the hiking / wilderness excursion. And boy was that a wrong move.
This week on the Really Awful Movies Podcast, we tackle this effort, and compare it with others of its ilk.
We discuss the Canadian backwoods horror, Rituals, as well as White Raven, and explore folk horror flicks like The Wicker Man.
The hosts also delve into what makes a good backwoods horror, characterization, the effectiveness of supernatural elements, bears, the Canadian wilderness, camping, Algonquin Park and much, much more!
Subscribe, folks!