Podcast: Play in new window | Download (Duration: 22:10 — 25.8MB) | Embed
Subscribe: Google Podcasts | Email | RSS | More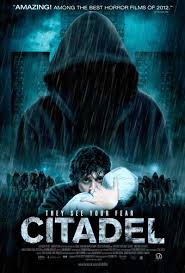 In advance of St Patrick's Day, a foray into Irish horror movies with Citadel, a psychological effort set in Glasgow Scotland.
For this, there's a terrific IMDb description: "an agoraphobic father teams up with a renegade priest to save his daughter from the clutches of a gang of twisted feral children who committed." If you don't find that enticing as a premise, you're reading the wrong website!
Astute viewers will notice similarities between the antagonists here, and those in David Cronenberg's The Brood.
This is one film that won't do wonders for Glasgow Tourism! A bit of a shorter entry for this week's podcast. We will be coming back strong next week, complete with both hosts, as we dive into different flavours of genre film.