Podcast: Play in new window | Download (Duration: 23:47 — 27.2MB) | Embed
Subscribe: Google Podcasts | Email | RSS | More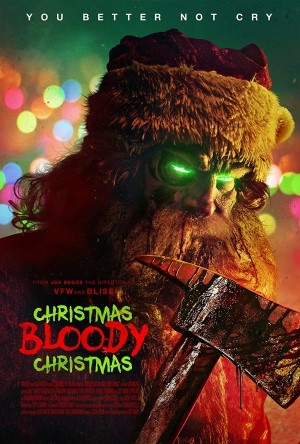 The holiday season is upon us. And as fans of the Killer Santa genre, we decided to dive into Christmas Bloody Christmas, a Shudder production that is streaming right now.
The plot: the subject of a nationwide recall, an animatronic Santa goes haywire. And of course, this killer Kris Kringle begins to lay waste to townsfolk.
On this episode, there's a discussion of:
Christmas horror films
Tangentially Christmas horror films, like Rabid
The Terminator and Gaspar Noe
The excellent YouTube reviewer Deep Focus Lens
Santa's Slay
Hipster sensibilities in movies, and indie rock chatter
The cast of Christmas Bloody Christmas
The similarities between a soundtrack track, and the work of Goblin from Dario Argento's Deep Red / Profondo Rosso
Where this film ranks in the pantheon of Santa Claus killer horror films
Don't forget to tune in and subscribe to the Really Awful Movies Podcast. And don't forget, we are the authors of two acclaimed nonfiction genre film books, Death by Umbrella! The 100 Weirdest Horror Movie Weapons (foreword: Lloyd Kaufman from Troma) and Mine's Bigger Than Yours! The 100 Wackiest Action Movies (foreword: Brian Trenchard-Smith, Stunt Rock, Strike of the Panther).
Put either title under the tree, and we'll be in your debt.
Cheers!