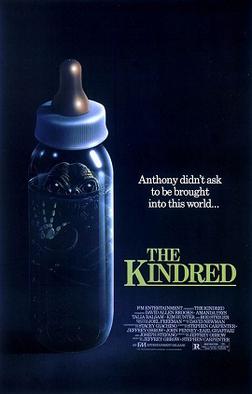 A furtive lab experiment. In a basement. On today's episode, the fun, smart and occasionally gory 1980s creature feature, The Kindred.
The Kindred is a fairly obscure 1987 American horror film directed by Jeffrey Obrow and Stephen Carpenter. Are two directors better than one? Not generally. Here, not bad!
Obrow also produced the film and co-wrote it along with Carpenter, Earl Ghaffari and John Penney. The film stars David Allen Brooks, Amanda Pays (Planet of the Apes) and Rod Steiger (he needs no introduction). The movie was released on January 9, 1987 and grossed just over $2 million.
Dr Amanda Hollins' deathbed request to her son, John, was for him to destroy all the lab notes from her last experiment, lest it get into the wrong hands (Dr. Lloyd, played by Steiger).
John and some buddies (including Melissa, a grad student devotee of Hollins) head up to the cottage where Hollins did her experiments. What do they find? We think you'll have a pretty good idea.
Join us for smart genre chat on the Really Awful Movies Podcast, every week.
Podcast: Play in new window | Download (Duration: 31:36 — 36.6MB) | Embed