Podcast: Play in new window | Download (Duration: 43:45 — 50.1MB) | Embed
Subscribe: Google Podcasts | Email | RSS | More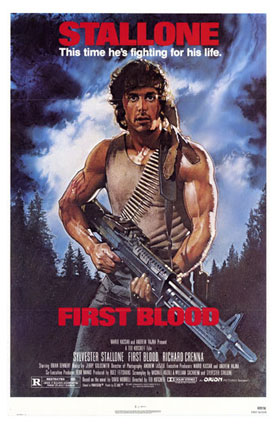 First Blood folks. RAMBO time.
First Blood is the iconic 1982 Stallone-starrer directed by Ted Kotcheff. A troubled 'Nam vet gets harassed by cops, then flees into the woods. He then has to rely on his formidable combat skills to fight off the police.
Based on David Morrell's 1972 novel of the same name it's the first installment of the Rambo series.
The film was released in the US on October 22, 1982. It got lukewarm reviews, and yet the film was a box office success.
It actually grossed nearly 50 million at the box office.
Since its release, First Blood has been getting a fairer shake, with many praising the roles of Stallone, Dennehy, and Crenna, and recognizing it as an influential film in the action genre. The brainchild of Stallone also spawned a franchise, consisting of three sequels (all which were co-written by and starred Stallone).
For more genre film chat, check out the Really Awful Movies Podcast every week!