Podcast: Play in new window | Download (Duration: 46:29 — 53.2MB) | Embed
Subscribe: Google Podcasts | Email | RSS | More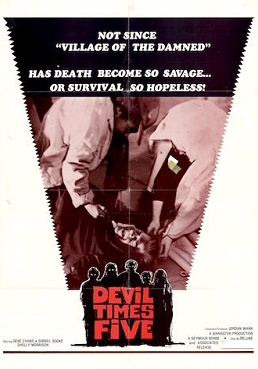 Ah, title multiplication. Devil Times Five, aka Peopletoys aka The Horrible House on the Hill. There's a positive correlation between number of titles and terribleness.
"Not since Village of the Damned has death become so savage…"
Um.
Devil Times Five is a killer kid movie, but not just any killer kid movie. It's also a home invasion movie, with weird soft-core exploitative elements. This is one downright odd film, full of plot holes as a result of being the work of multiple directors (see, multiple titles for another indicator of crapiness).
As a bonus: teen idol Leif Garrett and Sorrell Booke (Boss Hogg from Dukes of Hazzard).
Please watch this odd duck, and join us for our discussion!