Podcast: Play in new window | Download (Duration: 40:00 — 46.2MB) | Embed
Subscribe: Google Podcasts | Email | RSS | More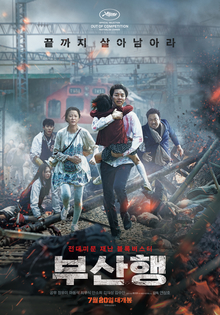 Train to Busan is a 2016 South Korean zombie apocalypse action thriller that has achieved considerable acclaim. It's directed by Yeon Sang-ho and stars Gong Yoo, Jung Yu-mi, and Ma Dong-seok.
Train to Busan takes place on a passenger train to the large South Korean city of Busan, just as a zombie apocalypse is afoot. As if a daily commute wasn't bad enough?
A young dad is accompanying his daughter to Busan, to visit her mother. He's a fund trader, and absentee father so we know he's supposed to meet with something redemptive, but that's neither here nor there. Anyway, along for the ride, a baseball, and assorted other commuters on this train, who have to cope with a viral outbreak that's turning the populate into frothing, mutant undead. You know how it goes.
So, is Train to Busan all that and a bag of chips? Or is the Asian zombie film a small cup of guacamole on the side? Check out the Really Awful Movies Podcast every Friday!