Podcast: Play in new window | Download (Duration: 28:44 — 33.3MB) | Embed
Subscribe: Google Podcasts | Email | RSS | More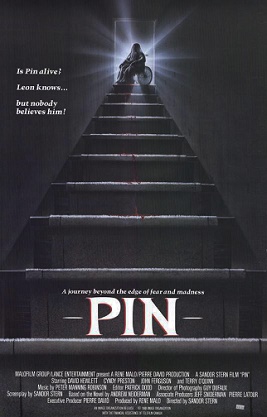 Pin (also known as Pin: A Plastic Nightmare) is a 1988 Canadian-made horror film released in 1988 that many people haven't seen. Directed by Sandor Stern and starring David Hewlett, Cynthia Preston and Terry O'Quinn, the unconventional psychological thriller is based on the novel of the same name by Andrew Neiderman.
Pin went the direct-to-video route, released in the United States on January 27, 1989. The IMDb synopsis says it all: "Isolated by his strange parents, Leon finds solace in an imaginary friend, which happens to be an anatomy doll from his father's doctor office. Unfortunately, the doll begins to take over Leon's life, and his sister's life as well." The strange parents include Dr. Linden, who puts his kids through the paces before bed, with math puzzles (doesn't sound like the guy who'll have a mug that reads "World's Greatest Dad") and the imaginary friend, from which this film's title derives (and is short for Pinocchio).
Kids Ursula and Leon, are not allowed to be in their pop's doctor's office alone with the anatomical doll (as we find out, this is because the doctor speaks through it like a ventriloquist). However, the strange, stoic, plastic face of the "creature" becomes more of a malevolent force. This is weird stuff, folks.
On this episode of the Really Awful Movies Podcast, Chris and Jeff discuss:
How we came to discover this underseen Canadian tax shelter horror movie
How as we get older, we come to appreciate psychological horror rather than merely gore
Similarities between Pin and Hitch's Psycho
The surprise man behind the pin-doll's voice
Coming-of-age sexual dyanamics
(and much much more!)
Check out new episodes every Friday!