Podcast: Play in new window | Download (Duration: 36:54 — 42.7MB) | Embed
Subscribe: Google Podcasts | Email | RSS | More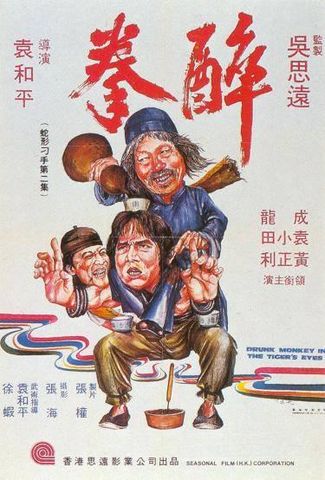 The phrase "human highlight reel" is pretty shopworn. In the world of sports, it's used for the one-namers, your LeBron, Kobe, Jordan, etc. Jackie Chan DEFINITELY qualifies, albeit in a different medium. And here, Drunken Master (1978) is a showcase for all his wild, over-the-top, ground-breaking antics.
Whether you like it or not, this film put comedy kung fu on the map. It's not exactly to our taste, as we like our Shaw Brothers productions, but there's no denying the spectacular talent that is, Jackie Chan.
Directed by Yuen Woo-ping, fight coordinator for Crouching Tiger, Hidden Dragon, The Matrix and the Kill Bill films, Drunken Master finds Chan in peak form as a knave who runs afoul of the wrong people, and then is forced to study a variety of martial arts and eat crow, in order to best his enemies.
Chan plays title character Wong Fei-Hung (also referred to as Freddie Wong) who disgraces the family name by hitting on a distant cousin and by attempting to con a restaurant. He is sent by an embarrassed papa to study martial arts under the tutelage of the aged, yet incredibly limber vagrant, Beggar So (sometimes So Hi depending on the dubbing). So is played by genre staple Yuen Siu-tien, who was an inspiration for the unhinged late rapper, Ol' Dirty Bastard.
But really, it's not about the plot. It's about the beat-downs.
On this episode of the Really Awful Movies Podcast, your genial hosts Jeff and Chris discuss:
Chan's early roles
Bruce Lee
VHS tracking
Janet Jackson (!) and the similarities between adult films and kung fu films (!)
Our favorite kung fu films
Bolo Yeung
Asian cinema..and much more!
Tune into the Really Awful Movies Podcast every Friday!