Podcast: Play in new window | Download (Duration: 29:10 — 33.8MB) | Embed
Subscribe: Google Podcasts | Email | RSS | More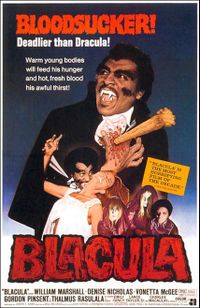 This puts the sucking in I'm Gonna Git You Sucka? Anyway, here's a terrific African American vampire movie…a portmanteau of black and Dracula (obviously). And that movie is: Blacula. The flick stars the imposing, booming-voiced actor, William Marshall (a Bard-trained theater guy brings great gravitas to the role of The Count. .
He plays an 18th-century African prince named Mamuwalde, who is turned into a vampire (and later locked in a coffin) by Count Dracula in the Count's castle in Transylvania in the year 1780 after Dracula refuses to help Mamuwalde suppress the North African / European slave trade.
Two centuries later, in the year 1972, two very effete interior decorators from modern-day La La Land, travel to Eastern Europe and unknowingly purchase a rare piece of furniture – Blacula's coffin. They have it shipped to Los Angeles…and you guessed it… All hell breaks loose.
Blacula was followed by the sequel Scream Blacula Scream in 1973 and inspired a wave of blaxploitation-themed horror films.
On this episode of the Really Awful Movies Podcast, Jeff and Chris break down:
Vampire movies
Our love of blaxploitation
The terrific performance of William Marshall
The ways in which Blacula differs from traditional horror and traditional blaxploitation