Podcast: Play in new window | Download (Duration: 29:43 — 34.5MB) | Embed
Subscribe: Google Podcasts | Email | RSS | More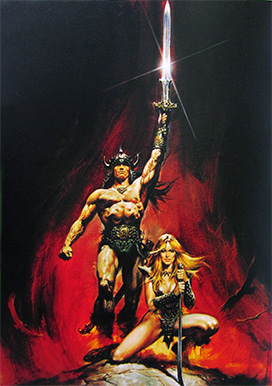 Conan the Barbarian is a sword and sandals epic, which meant a lot to us as youngsters. Ergo, we have to visit it (or revisit it) for the Really Awful Movies Podcast.
The 1982 American fantasy adventure film was directed and co-written by John Milius (and co-written by legendary crank Oliver Stone).
The adventure is based on stories by Robert E. Howard, a 1930s pulp fiction writer. The novel chronicles the eponymous Conan in a fictional pre-historic world of black magic and savagery.
The film stars Arnold Schwarzenegger as our hero and James Earl Jones as the chief antagonist. Conan the Barbarian tells the story of a young barbarian (Schwarzenegger) who seeks vengeance for the death of his father at the hands of the fantastically-named Thulsa Doom (Jones), the leader of a snake cult.
Buzz Feitshans and Raffaella De Laurentiis produced the film for her father Dino De Laurentiis, with Edward R. Pressman as an executive producer. Greek musician Basil Poledouris (RoboCop / Red Dawn) composed the music. Roger Ebert said this about Conan the Barbarian: "The movie is a triumph of production design, set decoration, special effects and makeup. At a time when most of the big box-office winners display state-of-the-art technology, "Conan" ranks right up there with the best."
On this episode of the podcast, Jeff and Chris examine:
monomyths
watching terrible television in Israel
awful mullet hairstyles
the epic soundtrack
the a la carte mythology
early Arnold Schwarzenegger movies
steroids and Hulk Hogan