Podcast: Play in new window | Download (Duration: 37:59 — 43.9MB) | Embed
Subscribe: Google Podcasts | Email | RSS | More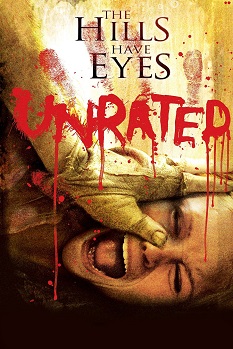 On today's episode, a journey to the Valley of the Sun…"death" valley, as it were in this serviceable, yet flawed remake of the Wes Craven classic, The Hills Have Eyes.
In this 2006 flick, Alexandre Aja is behind the camera lens (he of, the new-wave French classic, Haute Tension and Piranha 3D). And we get a little preamble featuring some nuclear scientists in hazmat suits and Geiger counters, roaming around in a desert setting. Soon, they're poleaxed / bludgeoned to death…and we know something is lurking in this highly radioactive locale.
Cut to a more conventional horror set-up: the road trip. There's nothing more American than going away for a long weekend in an RV or a trailer with the family, and venturing out somewhere along one of the many interstates that dot the nation. In The Hills Have Eyes, the Carter Family (which includes pops, mom, their two daughters, son, grand-daughter and son-in-law) is out crossing the desert to try to get to California.
That staple of the horror film, the seedy gas station attendant, leads the Carters down the garden path when he suggests there's a short-cut that'll save the family "two hours!" Soon, a spiked belt stops the family's pickup and Gulfstream trailer, sending them careening into a rock. And whoops, they're stranded.
And we all know what's lurkin' in them hills.
On this episode of the Really Awful Movies Podcast, we explore the millennium phenomenon of remakes, the various horror franchises that were given a re-imagining in the 2000s, how nuclear weapons/warfare is treated in the original Hills Have Eyes compared with its successors, where Wes Craven stands in the pantheon of horror directors, the sensibilities of Alexandre Aja, characterizations that focus on Red / Blue state cultural differences, female characters, pet demises, and much much more!!!
Tune in each and every week to the Really Awful Movies Podcast for genre films of all stripes, predominantly horror.