Podcast: Play in new window | Download (Duration: 31:53 — 36.9MB) | Embed
Subscribe: Google Podcasts | Email | RSS | More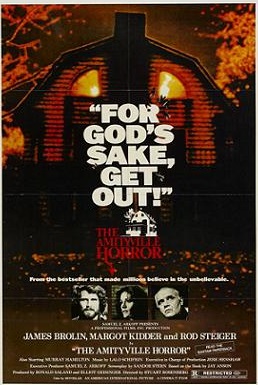 The Amityville Horror has spawned a seemingly countless number of both sequels and imitators.
All the stuff we've come to expect from the genre is here: the devil, cat scares, warnings, strange doings, a wigged out pet, creepy dolls, the works…
The 1979 American supernatural horror film, directed by Stuart Rosenberg (who is best known for Cool Hand Luke), is based on Jay Anson's 1977 novel of the same name, which was a big hit.
It's Installment 1 of the Amityville franchise. A remake was produced by Michael Bay in 2005, and starring Ryan Reynolds. Neither of us saw it, or intends to, but that's neither here nor there.
The Amityville story is based on alleged supernatural events experienced by the Lutz family who bought a new home on 112 Ocean Avenue in Amityville, Long Island, New York. The infamous abode is a house where a mass murder had been committed the year before, a whole family gunned down while they slept. After the parents (here played by James Brolin and Margot Kidder) moved into their new house, they claimed a series of frightening paranormal events occurred, many of which were demonstrated to be false.
There's not much to be said about this film, but its reputation does precede it. The opening Lalo Schifrin salvo is haunting (but the children's chorus bit has subsequently been overused). The performances are all over the map.
Robert Ebert, who in his review of the film said he met and spoke with George Lutz once at an airport, said this: In order to be a horror movie, a horror movie needs a real Horror. The creature in "Alien" was truly gruesome. The case of possession in "The Exorcist" was profoundly frightening. The problem with "The Amityville Horror" is that, in a very real sense, there's nothing there.
That's probably right. The first third is dynamite and it slowly erodes all the goodwill built up.
Listen for yourself!