Podcast: Play in new window | Download (Duration: 28:32 — 33.1MB) | Embed
Subscribe: Google Podcasts | Email | RSS | More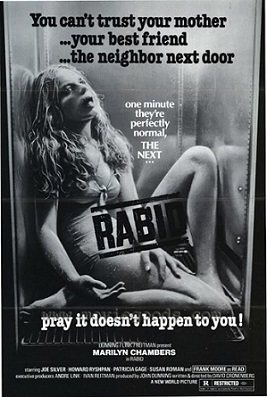 Part outbreak / contagion / zombie / vampire movie, Rabid is a wonderful little nugget of exploitation horror Canadiana.
On this episode of the Really Awful Movies Podcast, we examine David Cronenberg's masterpiece, starring ex adult film star Marilyn Chambers as Rose, a young woman who's involved in a motorcycle crash and who undergoes life-saving experimental surgery at an oddball clinic.
It's at this clinic (the Keloid Clinic) where she's given a skin graft for burns. And when she's in a coma, she starts experiencing strange side-effects. When her friend Lloyd visits, Rose comes to, biting him and penetrating him with an underarm dart (hey, if that sounds weird, we're in Cronenberg's wheelhouse, remember) and then biting him. Lloyd starts having odd symptoms.
Before you know it, both have left hospital and are spreading something weird, something untoward, something that's a lot like…rabies! Hence the film's name.
This a gross-out tax shelter movie, the kind we LOVE to watch. Seriously, there are a lot of Canadian exploitation fare that people should check out (Siege, AKA, Self Defence, Search and Destroy, Black Christmas to name a few. Please listen to our Black Christmas podcast!).
So, we have an outbreak, and the government has to crack down on it. And there's lots of sexual subtext (not the least of which being the casting of Chambers), and even some gallows humor. And there's also the Cronenberg gross-out trademark, and some spectacular kills.
Take a listen!