Podcast: Play in new window | Download (Duration: 35:55 — 41.5MB) | Embed
Subscribe: Google Podcasts | Email | RSS | More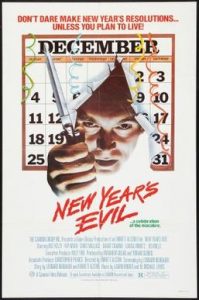 It's that time of year…a time for…New Year's Evil!
Thank you, thank you, thank you Cannon Films. What would we do on the Really Awful Movies Podcast without the charming movies put out by the cousins, Yoram Globus and Menahem Golan?
New Year's Evil is a bit like Hospital Massacre, another Cannon piece of cinematic cheese which was also centred around a festive time of year (in that case, Valentine's Day).
The film was seemingly made to capitalize on the nascent New Wave music scene at the time of its release. And as a result, there's some period-awesome music. The New Year's Evil soundtrack foot-stomper was co-written by Roxanne Seeman, a New York City-born songwriter who penned hits for Bette Midler, Barbara Streisand, as well as The Sisters of Mercy (one of these things is not like the other). The track is absolutely top-notch (Phantom of the Paradise kinda vibe) and the music really elevates this, which is essentially a standard stalk-and-slash.
In New Year's Evil…There's a killer on the loose…and he's timing his killings to coincide with the ringing in of the year new in different American time zones. Neat premise, huh? It's something worth considering as you belt out Auld Lang Syne three sheets to the wind…
And the killer, who calls himself EVIL, has his sights on the host of a New Year's Eve television broadcast for punk music aficionados.
Of note: the punk host is played by Roz Kelly, the Fonz' girlfriend on Happy Days. And also of note: the killer adopts disguises with varying degrees of effectiveness.
Be sure to tune in to the Really Awful Movies Podcast, a celebration of genre cinema.