Podcast: Play in new window | Download (Duration: 28:00 — 32.5MB) | Embed
Subscribe: Google Podcasts | Email | RSS | More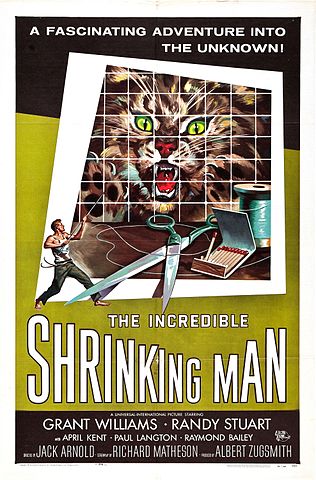 We're used to titles summing up horror movies. The likes of Hospital Massacre, Sorority House Massacre, etc, don't leave much to the imagination, and little of it is apparent in the finished product. The Incredible Shrinking Man, while not a horror film in the traditional sense, is pretty darn horrifying. An obvious title that lays bare the plot, belies a very interesting, thoughtful, and quirky little movie.
Yes, there's a man. And he's shrinking. And that's all you need to know. This movie sells itself with a terrific premise.
Scott is on vacation with the missus, Louise. They're on a boat playfully bantering as newly married folks do…and suddenly, a strange mist appears enveloping their craft. For reasons unexplained, the hull protects her from its effects, but poor Scott left on deck, is covered with a white film. Turns out, it was, like that Imagine Dragons ear-worm, "Radioactive." As the band sings, "I'm waking up to ash and dust, I wipe my brow and I sweat my rust, I'm breathing in the chemicals…"
Soon thereafter, Scott begins to shrink…shedding pounds and inches of height. He undergoes a battery of tests, but there's nothing that can be done.