Podcast: Play in new window | Download (Duration: 33:46 — 39.1MB) | Embed
Subscribe: Google Podcasts | Email | RSS | More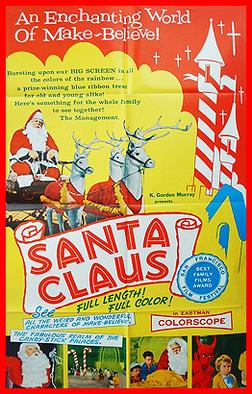 Mexican Santa Claus as it's known colloquially (sometimes known as Santa Claus vs. the Devil) is a  wild and woolly 1959 Mexican fantasy Christmas sci-fi film directed by Rene Cardona and co-written with Adolfo Torres Portillo.
The Cuban-born Cardona was a hugely influential figure in the so-called Golden Age of Mexican Cinema (but of course, fellows like us know him for the stupendous, Night of the Bloody Apes – the title of the 1972 English language version of the 1969 Mexican horror film La Horripilante bestia humana)
In this film, Santa Claus, our merry old elf, works in outer space (on the moon, actually) and does battle with a demon sent to Earth by Lucifer to ruin Christmas by "making all the children of the Earth do evil."
Here, Santa has a weird silver palatial abode that's not unlike Dr Phibes' lair. He spies on children with a variety of implements that capture voice, sound, visuals, etc.
He really DOES know when you're naughty or nice, sleeping or awake, etc.
Instead of Mrs Claus, Santa's associate is Merlin the Magician, complete with conical hat and a bunch of soporifics and invisibility potions. What? And instead of elves toiling away year-round, building toys in some North Pole factory, Santa has enlisted the help of a bunch of kids "of all colors and creeds," to work for him, and who wear the most ethnically stereotypical garb imaginable.
Mexican Santa Claus was lampooned on an episode of Mystery Science Theater 3000 but we knew about it years ago, through the fantastic Suspect Video. We miss that as a physical bricks and mortar store, but luckily it lives on to provide you with all your obscure blu-ray and DVD needs.
Join us as we are full of the holiday spirit, and Christmas cheer. And what better way to celebrate the holidays than with this oddball south of the border, uh….classic?
And be sure to subscribe to the Really Awful Movies Podcast, and to pick up a copy of our book, Death by Umbrella! The 100 Weirdest Horror Movie Weapons.