Podcast: Play in new window | Download (Duration: 32:30 — 37.6MB) | Embed
Subscribe: Google Podcasts | Email | RSS | More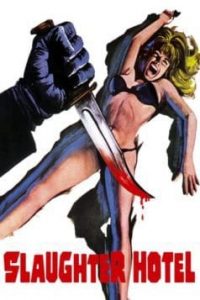 Slaughter Hotel (in Italian: La bestia uccide a sangue freddo and also known as Asylum Erotica and Cold Blooded Beast) is a 1971 Italian giallo horror film directed by Fernando Di Leo and starring the incomparable Klaus Kinski. The film, a hybrid of exploitation, giallo and slasher, follows a masked killer murdering female patients in a sanitorium.
So yes, the title is a bit of a misnomer.
Directed by Fernando Di Leo, this 1971 effort is as stylish as they come, and represents a rare foray into horror by the director, more known for his work in Italian crime cinema.
There's an axe-wielding maniac lurking in the shadows, a fun red herring in the form of a leering gardener, and of course, a bevvy of beautiful babes and an assortment of native tongues necessitating ADR.
Join us on the Really Awful Movies Podcast!