Podcast: Play in new window | Download (Duration: 28:40 — 33.3MB) | Embed
Subscribe: Google Podcasts | Email | RSS | More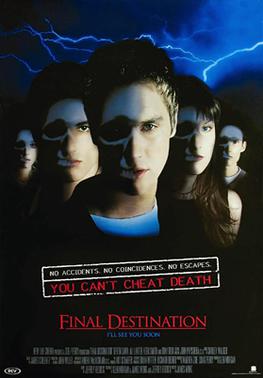 This week on the Really Awful Movies Podcast, the film that launched a somewhat inexplicably popular franchise, kinda like Subway Restaurants…Final Destination!  Hey, that's not quite a slight…every now and then, a meatball sub hits the spot, right?
A bunch of kids are boarding a plane for France (or, pre-boarding, the phrase that really irked the late, great George Carlin). One member of the class has a premonition, wigs out, and demands to get off the aircraft causing quite a commotion.
A bunch of others soon follow, including a teacher/chaperone and BOOOOOOOM, the jet explodes over JKF Airport.
Who is this kid with the horrifying vision? (and with the bad 'N Sync boy-band 'do?). That's what the NTSB wants to find out, that's what the FBI wants to find out…and that's what viewers will wanna find out.
James Wong (Black Christmas) directs…and Kerr Smith (Dawson's Creek) plays a good jock villain. Devon Sawa is the kid who can see into the future…
So sit back, put your seat in a reclining position….and check out the latest installment of the show.
And don't forget, support us by picking up a copy of either of our books: Death by Umbrella! The 100 Weirdest Horror Movie Weapons and Mine's Bigger Than Yours! The 100 Wackiest Action Movies. 
If you're a fan of the show, the horror film genre, or braindead action movies, you'll LOVE them.
Join us every Friday for brand-spanking new episodes.