Podcast: Play in new window | Download (Duration: 24:34 — 28.6MB) | Embed
Subscribe: Google Podcasts | Email | RSS | More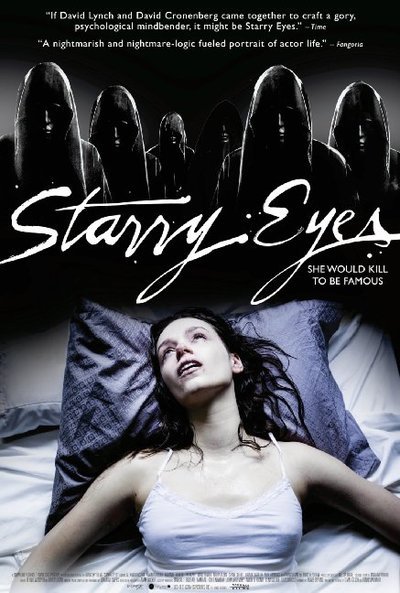 Directed by the team behind the reboot of Pet Sematary, Starry Eyes (Kevin Kölsch and Dennis Widmyer) is an ambitious fantasy horror offering about a young starlet and part time waitress at a tacky restaurant, who gets a big break in a role of a lifetime – provided she does something unseemly first.
Set in LA, and featuring a bunch of Hollywood wannabes in competition with one another, there's one among them whose drive and determination stands out: Sarah Walker (Alexandra Essoe).
After Walker disappoints in a lead role for The Silver Scream, the young woman has a complete meltdown in the bathroom shortly thereafter, only to be spotted by one of the casting agents, who is so impressed by her psychological breakdown, she asks Walker to recreate it in a second audition (before meeting the film's degenerate producer, a Harvey Weinstein-esque figure, at his mansion for the third).
Starry Eyes has atmosphere and ambition to spare (appropriately). And Essoe in the lead is the driving force behind the interest in this one.
Check it out, as it's a solid effort and subscribe to the Really Awful Movies Podcast!