Podcast: Play in new window | Download (Duration: 26:05 — 29.9MB) | Embed
Subscribe: Google Podcasts | Email | RSS | More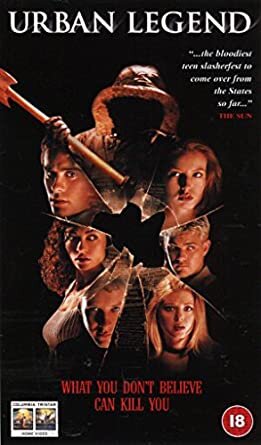 This week on the Really Awful Movies Podcast: Urban Legend.
The inspiration for discussing the late 90s film is three-fold: One, the famous series of books by Professor Jan Harold Brunvand (The Vanishing Hitchhiker: American Urban Legends and Their Meanings, The Choking Doberman, Encyclopedia of Urban Legends – these books were instrumental in getting one of the hosts of this podcast, into the world of mainstream publishing).
Two, one of the protagonists of this film, played by Jared Leto, is a journalist, again, the profession of one of the co-hosts of this podcast…
and Finally, three the setting: the Alma mater of one of the co-hosts of the Really Awful Movies Podcast, the University of Toronto, which is where this one is set.
Join us for a discussion of Urban Legend, featuring an all-star cast (Tara Reid, Robert Englund, of Nightmare on Elm Street fame, the aforementioned Jared Leto, Joshua Jackson and more) and lots of 90s irony and silliness, but also a great concept around which to base a horror film.