Podcast: Play in new window | Download (Duration: 30:17 — 34.7MB) | Embed
Subscribe: Google Podcasts | Email | RSS | More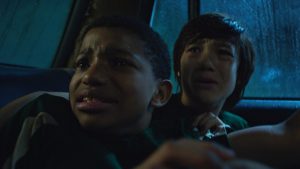 In The Boy Behind the Door, two young boys are kidnapped and taken to a remote farmhouse near some oil rigs. And terror awaits! Actually, lots of terror at least for the first hour, before things take a turn for the cheesy.
Join the podcast, and subscribe as we delve into this thriller from 2020, which stars the awesome Lonnie Chavis (This is Us) as Bobby.
This is a film produced by streaming service, Shudder, with two directors – which, though not as bad as an Alan Smithee production – doesn't always bode well.
On this podcast, talk centres on the changing seasons, The Houses October Built, a POV horror centred on Halloween haunted houses, The Shining, Burnt Offerings, Candyman, and yes, The Boy Behind the Door and the sympathy generated by horror films that feature kid protagonists.