Podcast: Play in new window | Download (Duration: 28:14 — 32.3MB) | Embed
Subscribe: Google Podcasts | Email | RSS | More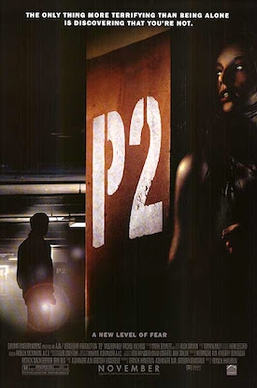 Imagine being trapped in an underground parking garage with some lunatic? Horror movies, of course, exploit fears of all stripes. And for women, particularly, clutching keys in the dark trying to find your car…well, that's what director Franck Khalfoun (Maniac) has envisioned and positioned his horror film around in P2.
Angela is working long hours in her midtown Manhattan office, you know…one of those lawyerly billable hours things. Her car needs a boost, and she gets some assistance from the security guard. At least at first. Until he reveals himself to be…well, tune in and find out.
As always, watch the film first and then check out the podcast.
P2 is co-written and produced by Alexandre Aja, the Parisian director who gifted us Haute Tension, Crawl and the stellar remake of The Hills Have Eyes. Both he and Khalfoun know what they're doing and the results show.