Podcast: Play in new window | Download (Duration: 24:37 — 28.2MB) | Embed
Subscribe: Google Podcasts | Email | RSS | More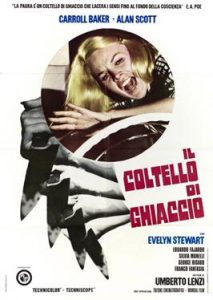 On this episode of the podcast, venturing into giallo territory with Knife of Ice.
Il coltello di ghiaccio, as it's also known, is directed by site favorite Umberto Lenzi, who gifted us Nightmare City, Cannibal Ferox and many others.
In this one, there's the conceit of a mute character, a woman who is traumatized by the death of her parents in a train crash and who cannot speak at all as a result. Which makes for a nifty, albeit silly, plot device. No matter! In a Spanish hillside town, a black gloved assailant is laying waste to the townsfolk. And cops need to investigate, in this fun, spirited who done it.