Podcast: Play in new window | Download (Duration: 24:25 — 27.9MB) | Embed
Subscribe: Google Podcasts | Email | RSS | More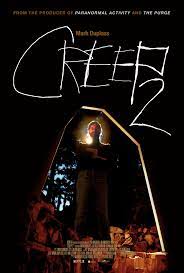 On this episode of the podcast, the sequel to the excellent POV horror, Creep – Creep 2.
This flick is a 2017 found footage psychological horror film directed by Patrick Brice and co-written by Brice and Mark Duplass, also the co-star.
The film follows Aaron, the eponymous creep, and his efforts to get his story told by a struggling documentary filmmaker, Sara.
On this episode of the show, the perks and pitfalls of POV-style horror, suffering for one's art, the importance of character development as opposed to narrative structure in horror, the humorous elements of horror, Blumhouse productions, and straight-ahead slashers.
Also part of the discussion: documentary filmmaking as an art form, and the exemplary Canadian documentary, A Better Man, by Attiya Khan, as well as When we Were Kings.