Podcast: Play in new window | Download (Duration: 30:20 — 34.7MB) | Embed
Subscribe: Google Podcasts | Email | RSS | More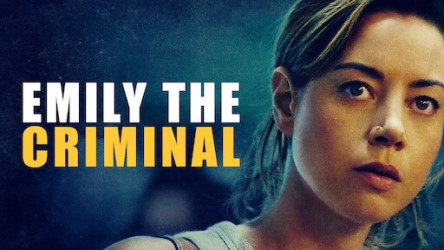 This week on the podcast, we close out the year with Emily the Criminal, a taut, tense thriller about credit card scheming which stars Aubrey Plaza and Theo Rossi (Sons of Anarchy).
In the film, a down on her luck Emily, meets the charismatic Youcef, and together, they bilk big box retailers and car thieves out of thousands of dollars.
Meanwhile, Emily, is halfheartedly trying to live life on the straight and narrow with the assistance of a friend, Liz, a high-powered advertising executive who can pull a few strings.
This is a film that's well-deserving of its kudos.
On the latest episode of the podcast:
Film noir plots
The work of Aubrey Plaza
The big score, and the allure of the criminal lifestyle
Ex-jewel thief Larry Lawton
What drives people to a life of petty and then increasingly more lucrative crime
Tune in, and don't forget to subscribe to the show, uploaded every Friday and spanning genre films of all stripes – particularly horror and action movies.