Podcast: Play in new window | Download (Duration: 27:40 — 31.7MB) | Embed
Subscribe: Google Podcasts | Email | RSS | More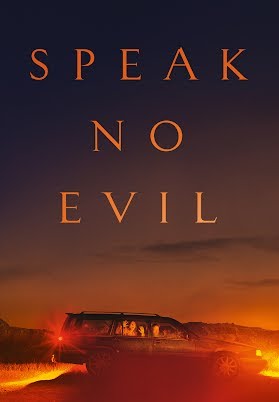 On this episode, the captivating, relentless Danish horror, Speak No Evil.
Two couples meet while on vacation on a sprawling villa in Tuscany. They enjoy stunning countryside, the quaint village town, the fabulous wine, and fantastic Italian food, including fresh gnocchi and octopus.
Their kids bond/connect, and eventually, the families go their separate ways – back to Denmark, and The Netherlands.
Fast forward, and the Dutch couple (Patrick and Karin) send the Danes (Bjorn and Louise) a postcard, inviting them down for a stay at their home.
The Danes, initially somewhat surprised by the hospitality/gesture, eventually accept, and ask themselves "what's the worst that could happen?"
Besides, they figure it would be a cost-effective trip, and decide to hop on a ferry and then drive their way down, their little girl and her favorite plush toy rabbit in tow.
Little do they know, the hosts are not as the seem. Something they find out on a night out at the local pub. Things get far far worse from there, as the impromptu vacation turns into something rotten for the Danes!
Tune in and subscribe to the Really Awful Movies Podcast!