Podcast: Play in new window | Download (Duration: 23:41 — 27.1MB) | Embed
Subscribe: Google Podcasts | Email | RSS | More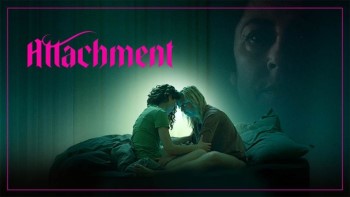 Two women, actress Maja and academic Leah, meet in a Copenhagen library. They soon connect and move in together, first in Denmark, then at Leah's mom's place in East London.
Is this the stuff of a rom-com, or a horror? Fear not. Or, rather…fear. Before too long, strange occurrences begin happening.
Attachment is set in an Orthodox Jewish community in London, and incorporates things like the Dybbuk, Kabbalah, and other mystical elements.
Tune into the podcast, for a longer discussion of this Shudder production, released in 2022.