Podcast: Play in new window | Download (Duration: 18:08 — 20.8MB) | Embed
Subscribe: Google Podcasts | Email | RSS | More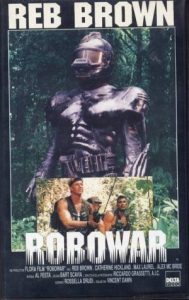 In this week's Crap Movies of the Week, we look at Never Too Young To Die, a 1986 feature starring John Stamos as Lance Stargrove (!). He's a young man who, with the help of a secret-agent Danja Deering (Vanity a.k.a. the ex of the Purple One, Prince) must avenge the death of his secret-agent dad (George Lazenby) at the hands of the evil hermaphrodite Velvet Von Ragner (Gene Simmons).
The Bond similarities include a Q and an M but for the most part, it's a whole lot of BS. Simmons is part of a Vegas-style variety act, done in fishnets and channeling Rocky Horror Picture Show. Robert Englund shows up too, to disgrace himself (the film's not mentioned in Bob's book, not surprisingly).
Also, is Bruno Mattei the worst director of all time? He's got stiff competition from Uwe Boll but stands head and shoulders above.
He directed Robowar – Robot da Guerra – which is basically a Predator knock-off with elements of Robocop. It stars Really Awful Movies' buff favorite: Reb Brown.
Also, expendable guns and bandoliers and Bruno Mattei's last film: Zombies: the Beginning.