Podcast: Play in new window | Download (Duration: 25:07 — 28.8MB) | Embed
Subscribe: Google Podcasts | Email | RSS | More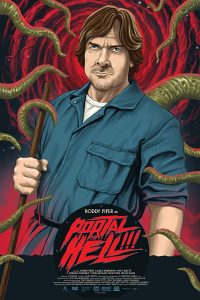 Director Vivieno Caldinelli and writer Matt Watts discuss the Rowdy Roddy Piper starring short,
Portal to Hell
, ahead of its TIFF premiere.
A crusty and reclusive building superintendent is foisted into the ultimate fight against evil when a couple of cultists open a portal to the ancient and mysical city of R'lyeh, awakening a slumbering god.
The movie was inspired by Overboard, through the lens of a John Carpenter-type film. They decided to do a short, with the idea to fund a feature. Talk also centres on the enduring legacy of HP Lovecraft's Cthulhu monster. HPL is in the zeitgeist right now.
We really miss Rowdy Roddy Piper.
We were pleased to see UFC champ Rhonda Rousey's heartfelt tribute to the man who gave her her fighting moniker. We were also really pleased to see him in Portal to Hell. He's a bad-ass, but unlike other movie badasses, he has an everyman quality. He left us far too young.