Podcast: Play in new window | Download (Duration: 24:05 — 27.6MB) | Embed
Subscribe: Google Podcasts | Email | RSS | More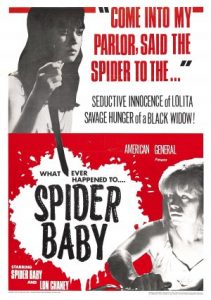 Jack Hill's Spider Baby is a black horror film with comedic elements, shot in resplendent black and white in 1964, and released in 1968.
It stars Lon Chaney, Jr. as Bruno, the aged chauffeur and caretaker of a trio of orphaned siblings who suffer from "Merrye Syndrome." This affliction, explained in an introduction read from a family tome, causes them to regress mentally, socially and physically, starting in puberty.
Subtitled, The Maddest Story Ever Told, one of the children, Ralph, is played by none other than Sid Haig, best known for House of 1000 Corpses, Jackie Brown, Kill Bill: Vol 2, etc.