Podcast: Play in new window | Download (Duration: 40:59 — 46.9MB) | Embed
Subscribe: Google Podcasts | Email | RSS | More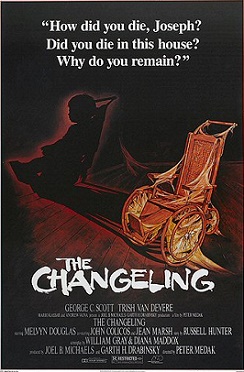 A superficially straight-ahead ghost story, there's much more to The Changeling than meets the eye. There's also a political procedural aspect to this, which is probably a bit less than successful, but that which keeps things interesting.
Well-known in horror circles as among the best of its kind, The Changeling will delight fans of the supernatural.
You really can't go wrong with George C. Scott. He was Patton after all.
Scott portrays Professor Russell, a grieving music composition instructor who takes a gig teaching in the Pacific Northwest, after losing his family in a horrific crash.
And he's gotta find somewhere to live right? Well, what better place than a sprawling, creepy Victorian mansion?
It's rented to him by a woman, Claire, who provides a sounding board for Russell, who confides in her that he's sensing unnerving things in the abode.
And of course, a spiritual medium is called in to see who's haunting the house. It turns out to be someone somewhat unexpected.
Check out The Changeling, and be sure to check out new episodes of the Really Awful Movies Podcast, uploaded every Friday.