Podcast: Play in new window | Download (Duration: 28:54 — 33.5MB) | Embed
Subscribe: Google Podcasts | Email | RSS | More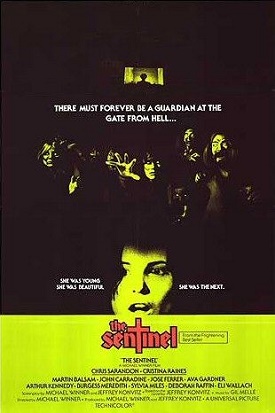 The Sentinel is a 1977 American horror film based on the 1974 novel of the same name (which we haven't read). The source material is courtesy of author Jeffrey Konvitz (who assisted penning the screenplay). His co-writer was the film's director Michael Winner. Winner wowed us with, if you'll excuse us, a real "winner" in the Death Wish Series. That one is pretty darn awesome.
And here, we're back in New York City (although in Death Wish, as filming there became cost-prohibitive later in the series, it started to look less and less like anything resembling The Big Apple). The Sentinel is about a young NYC model who's on the market for a pad (And this was before the days when you'd have to fork over $2500 / month for a studio the size of a sedan).
She finds a place to rent! It's Brooklyn Heights shambolic mansion that has been converted into different apartments, each populated by a bunch of weirdos, including a fay Burgess Meredith traipsing around with a budgie.
The guy residing on the top floor though, is an excommunicated priest…and the building is…wait for it…A PORTAL TO HELL!  People, always check the rental agreements…Between that an a landlord asking for an illegal security deposit, it's a tough grind out there for a tenant! Please see, Roman Polanski's…uh…The Tenant.
The Sentinel stars a bunch of pretty notable folks: Cristina Raines, Chris Sarandon, Ava Gardner, Burgess Meredith, Sylvia Miles, and Eli Wallach. The film also features Christopher Walken, Jeff Goldblum, John Carradine, Jerry Orbach, Martin Balsam, Tom Berenger, and Beverly D'Angelo.
On this episode of the Really Awful Movies Podcast, we always love it when we can discuss a good, tense, terse, solidly put together supernatural horror film. It's definitely our least favorite genre, but when it's done well (as is the case here) boy are the goods delivered.
The Sentinel holds up terrifically well. It's worth checking out, as is our podcast, uploading EVERY FRIDAY for your listening pleasure.