Podcast: Play in new window | Download (Duration: 34:24 — 39.8MB) | Embed
Subscribe: Google Podcasts | Email | RSS | More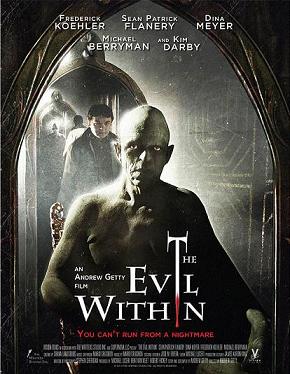 Mirror mirror on the wall, who's the most f-ed up of them all? On this episode of the Really Awful Movies Podcast, a discussion of the long-time coming, plagued Andrew Getty-directed/written production, The Evil Within.
The Evil Within came and went in 2017. However, it did generate media coverage. Just not the good kind. The Guardian weighed in on the production of the film, some 15 years in the making, and discussed the labour of love which eventually brought it to, if not the big screen, then the Amazon streaming screen.
Andrew Getty (he of the Getty oil fortune) put his heart and soul into this film, his one and only movie as this was released posthumously when Getty died at the age of 43.
At the heart of The Evil Within is a story of brotherly love, John as custodian/caretaker of mentally-challenged Dennis. Dennis, is plagued by terrible nightmares, the only respite from which is doing the bidding of the evil "Storyteller" (played by the inimitable Michael Berryman, who communicates with Dennis through an antique mirror). Once the requests become more and more sinister, the homestead/community is threatened. Dennis goes from animal killing / taxidermy, to prey of the two-legged variety, offing the local ice cream girl.
This is set against the backdrop of brother John, and his current squeeze Lydia, who is not happy with what she perceives as a figure, Dennis, who's dragging down hers and John's romance and future nuptials.
The Evil Within, despite being nearly a decade and a half in the making, comes with well-earned scares. It's a shame it's been overlooked.
On this episode of the Really Awful Movies Podcast:
Freud, Jung, and dreams
Horror films featuring mirrors
The meaning behind mirrors
The man, the legend, Michael Berryman
What plagues our own nightmares
Howard Stern's Wack Pack/Matthew McGrory
How long does it take for something to be considered a cult classic?