Podcast: Play in new window | Download (Duration: 36:38 — 42.4MB) | Embed
Subscribe: Google Podcasts | Email | RSS | More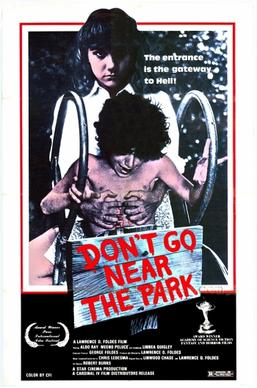 A truly baffling exposition-fest, coming-of-age, caveman /cannibal curse/vampire movie, Don't Gear Near the Park is one of the more odd cinematic experiences one can have in the realm of horror.
It fulfilled two criteria for review on this site: a) it was a Video Nasty, and b) it had "don't" in the title, a subset of films one of us refers to as "admonition movies."
A caveman sibling duo, is cursed with advanced aging. And the only way to slow down the runaway train of wrinkles, is to…feast on the entrails of victims…in a park…And to fully alleviate the curse, the brother half (Gar) has to father a child, on whom both he and his caveman sister can feed. Full points for originality.
Fast-forward 12,000 years to present day California, and Gar has changed his name, and found his betrothed (played by Linnea Quigley, scream queen extraordinaire). She gives birth to a girl, Bondi, who is the apple of Gar's eye. Will Gar feed on his offspring? Will the curse be lifted? Does any of this make a lick of sense?
But this isn't even a coming-of-age tale about Bondi. Don't Go Near the Park features child actor Meeno Peluce as a runaway, Nick, who befriends a curmudgeonly writer, played by Aldo Ray (seemingly there to provide endless exposition about strange curses…and so the old guy can drone on about the park in question, while mentoring the kid).
Featuring some dollar store bloodletting, day-for-night continuity issues, appalling hair/makeup effects, a narrative that makes Umberto Eco's body of work look like A Cat in the Hat, this is one BIZARRE BIZARRE film.
Check it out!