Podcast: Play in new window | Download (Duration: 27:23 — 31.8MB) | Embed
Subscribe: Google Podcasts | Email | RSS | More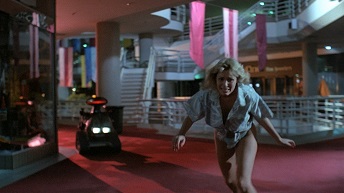 Scenes from a mall. A CHOPPING Mall. On this episode of the Really Awful Movies Podcast, a look at this Jim Wynorski feature, Chopping Mall.
Wynorski (The Return of Swamp Thing / Hard to Die / Big Bad Mama II) is known as a highly prolific genre director. He directed 7 features from the mid eighties to the decade's end. And usually worked on a really low budget. This Corman production was no exception, filmed at the same mall as the one used for the excellent Arnold vehicle, Commando (which we podcasted on this very show).
And the plot could not be any more simple: a team of robotic security bots malfunction, causing them to run amok and destroy everything in their path. The "everything" in question includes a bunch of "teen" partiers, some of whom work in a furniture store, and therefore have access to lots of bedding. It also includes some mall staffers unlucky enough to be working overtime/after-hours.
Chopping Mall has a few things going for it, namely, the always gorgeous Barbara Crampton, a terrific score, and of course, cheesy killer robots. But there's more to it than that. There are some winking cameos by Corman regulars (you'll have to watch the film, and then listen to our show!), a dash of nudity (according to the DVD extras, Wynorski reported that ""Roger wanted some nudity in this picture.") and of course, a couple of terrific kills.
With a shooting schedule of less than a month, the film, released as Killbots bombed (audiences thought it was a cutesy robot feature). However, it was given a new lease on life with its new slasher audience-friendly title, Chopping Mall.
Thanks for listening!