Podcast: Play in new window | Download (Duration: 27:04 — 31.4MB) | Embed
Subscribe: Google Podcasts | Email | RSS | More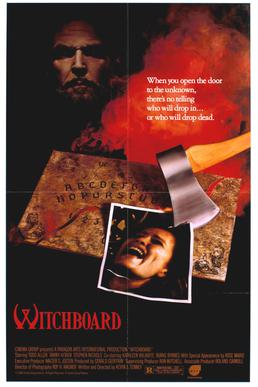 What would a party be without a Ouija board? Fun? Har. Har. OK, wags, admit it…you gotta love the ol' Ouija board. What better way is there to contact the spirit world?
Witchboard is a fun 80s flick about that very phenomenon. The director is the same guy behind site favorite, Night of the Demons, so you gotta figure this one has the same goofy aesthetic. And you'd be correct.
Video vamp Tawny Kitaen stars as Linda, a woman who becomes obsessed with a Ouija board after being introduced to it at a party one night. She contacts the spirit of a young boy, David, and in doing so…opens up a Pandora's box of evil.
Along for the ride, spurned lover, Brandon, along with fiance, Jim.
As Linda keeps toying with the board, a bunch of unfortunate events start to occur. This requires an intervention: not a psychiatrist, mind you, but a spirit medium.
Witchboard was such an 80s staple, seemingly everywhere on video store shelves. It was tepidly received at the box office, but continued to have a life beyond on via rental.
Your hosts delve into all things "wee-jee?", "wee-jah?" Whatever way you slice it…this is a fun one.
Be sure and subscribe to the show, and leave us a review on iTunes.