Podcast: Play in new window | Download (Duration: 29:53 — 34.7MB) | Embed
Subscribe: Google Podcasts | Email | RSS | More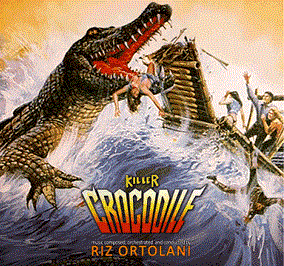 A Killer Crocodile creature feature, that's Italian to boot? No need to say that twice. We're there. As straightforward a concept as you could possibly devise, this one is about…you guessed it…a killer crocodile (lest you thought this was a rom-com about a shy teacher who meets a beau in fin-du-siècle Paris).
In an undisclosed location (wherever was cheapest to film in 1989) Killer Crocodile was directed by the multi-named Fabrizio De Angelis (sometimes rendered as Larry Ludman), an oft-collaborator with Italian genre legends, Umberto Lenzi, Lucio Fulci, etc.
An amorous twosome is on a beach. The guy breaks  out a classical guitar and woos his lady friend with song. But Leonard Cohen he is not, and she doffs her top and runs into the water. Bad move. There's a…well…killer crocodile about.
Radioactive waste is discovered in a swamp: in barrels marked "toxic waste," so there can be no confusion whatsoever. Ecologists are floating down the river Joseph Conrad-style, collecting samples of river water. And when the body count begins to rise, they surmise that the radioactivity created a monster-sized croc. What a croc!
The film stars Richard Anthony Crenna (son of actor, Richard Crenna) and was followed by an unheralded sequel, Killer Crocodile II, in 1990.
There's atonal weirdness lost in translation, gobs of bal-peen hammer exposition, a croc that looks like it was constructed as an after-thought for a soap box derby, and a wildly unhinged investigative journalist. In other words, extraordinarily fun.
So, how does this one fare as compared with Lake Placid, Alligator, or Rogue? That's where you come in, dear listener.
On the Really Awful Movies Podcast, we absolutely love nature run amok movies, aka natural horror flicks. They're so wonderful, even if they unabashedly rip off the Top Dog of the genre, Jaws.
Send us suggestions for animal attack movies we should cover!