Podcast: Play in new window | Download (Duration: 36:09 — 41.8MB) | Embed
Subscribe: Google Podcasts | Email | RSS | More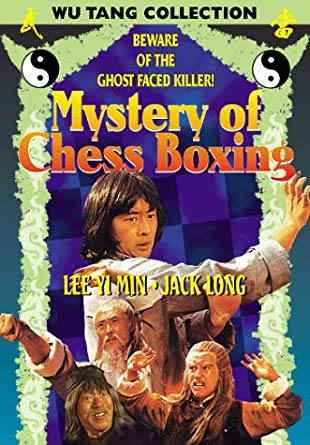 On this week's episode of the Really Awful Movies Podcast, some 70s kung fu styles with this effort, Mystery of Chessboxing.
The film's notoriety is twofold: 1) it inspired Wu Tang's Da Mystery of Chessboxin, a great song by the Wu with RZA and ODB production and a Method Man chorus and 2) it introduced the world to The Ghost Face Killer, a massive eye-browed grey-maned old-timer ass-kicker with a martial arts style based on the Five Elements.
The film focuses on young Ah Pao, who wants to learn kung fu so that he can avenge his father's death at the hands of the Ghost Faced Killer (Mark Long). He enrolls in a kung fu school, and becomes an apprentice, procuring rice for the faculty and students. And he's tested, of course, and improves his skills (of course) but not in the way you might think. Genre fans will definitely get a kick out of (no pun intended) the appearance of Simon Yuen, chop-socky stalwart, in the role of a cook at the school (Yuen is known for Drunken Master and Story of Drunken Master).
Ah Pao is eventually booted from the school and eventually comes under the tutelage of a chess master, master Chi Sue Tin (played by Jack Long). Together, they figure out a way they can take out Ghost Face Killer and the film culminates in an outrageous battle to the death.
There's board games, strategy, montages, and of course, an incredible amount of ass-kicking for which the Golden Era of kung fu films was known.