Podcast: Play in new window | Download (Duration: 49:31 — 57.1MB) | Embed
Subscribe: Google Podcasts | Email | RSS | More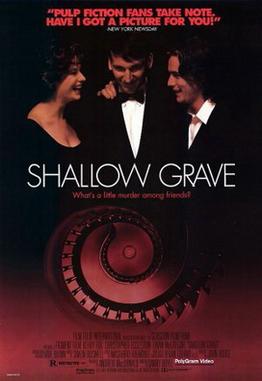 On this episode of the Really Awful Movies Podcast: Danny Boyle's Shallow Grave, starring Christopher Eccleston, Kerry Fox, and Ewan McGregor.
The "what to do with a body?" scenario is oft-played in film noir films. This is a tribute to those kinds of films. Three flat-mates are seeking a fourth roommate to share their grand-looking apartment in Glasgow, Scotland. They put a bunch of candidates through their paces, making fun of several of them very cruelly, before finally settling on a fellow named Hugo (Keith Allen). Hugo, however, doesn't last too long in the flat. You see, he dies of a drug overdose almost instantly. And he's left behind a mysterious suit-case stuffed with money.
The roommates decide that they can make off like bandits if they simply dispose of Hugo.
That sets the ball rolling in this darkly funny, consistently engaging tale. Join us for Shallow Grave, and don't forget to subscribe to the podcast!