Podcast: Play in new window | Download (Duration: 29:14 — 33.9MB) | Embed
Subscribe: Google Podcasts | Email | RSS | More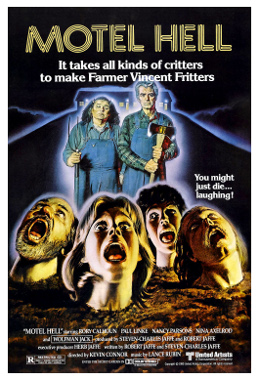 On this episode of the Really Awful Movies Podcast, the excellent Motel Hell!
This is a hicksploitation classic from the 80s, smack dab in the middle of the Golden Era of horror (at least in our estimation, and we hope yours too).
Rory Calhoun stars as Farmer Vincent, whose farm produces "Farmer Vincent Fritters," which are sourced from mystery meat (you shouldn't have to take too many guesses to find out what that means).
Often thought of as a satire of Texas Chainsaw Massacre and Psycho, this leisurely charmer is a fun one.
Vincent, along with business partner and sibling Ida, lure unsuspecting folks to their motel, and subsequently murder them.
The plot isn't overly detailed.
Join us, and subscribe to the Really Awful Movies Podcast!