Podcast: Play in new window | Download (Duration: 28:29 — 32.6MB) | Embed
Subscribe: Google Podcasts | Email | RSS | More
Two movies on this episode of the Really Awful Movies podcast, both recent efforts as well. And both, quite overrated but also quite worthy of your time. If that makes sense?
Barbarian
Two people, Tess and Keith, double book an Airbnb-type residence in Detroit. As an aside, Airbnb rentals can be fodder for some good horror films (see, The Rental and 13 Cameras) and some not so awesome ones (Superhost). The twosome bond, despite the female half's initial misgivings, after she susses out that her new roommate isn't a complete and utter creep. Or is he?
Soon, however, she discovers something very disturbing in the basement. Barbarian then does an abrupt tonal shift that subverts expectations, for better and for worse.
Bodies Bodies Bodies
This one gives Pete Davidson top billing. And to be fair, Davidson was amazing in The King of Staten Island. He plays a rich son whose parents own a sprawling mega-mansion. During a storm, he decides to throw a party, inviting a bunch of snooty rich kids over to abuse all kinds of substances, and behave like idiots.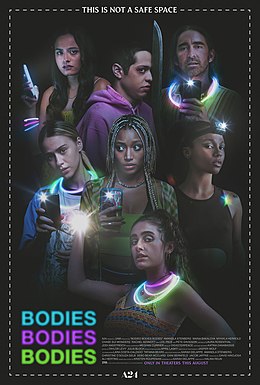 Bodies Bodies Bodies follows the thematic structure of Agatha Christie's And Then There Were None (Ten Little Indians). It's a common narrative device, but is given a bit of extra juice given that the principles here are all Gen Z, and that the cinematography is really cool and the atmosphere top notch.
They play a parlour game, and soon, one among their ranks meets their maker. Who did it?
While the movie poster art betrays a 90s ironic stalk-and-slash aesthetic, this is a film that's more of a whodunit. Something that definitely works in its favor, even if the heavy-handed satire of young people, doesn't as much.
Tune in! Subscribe to the Really Awful Movies Podcast.