Podcast: Play in new window | Download (Duration: 20:37 — 23.6MB) | Embed
Subscribe: Google Podcasts | Email | RSS | More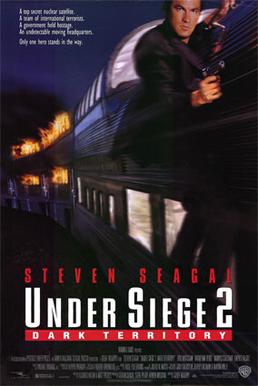 It's Die Hard on a train! On this episode of the Really Awful Movies Podcast, Steven Seagal is back…but on a different conveyance, moving from a navy destroyer to a train.
But fear not, he's just a cook (whoops, I said "chef" on this episode and didn't feel like fixing it) who happens to be able to take on 30-50 antagonists singlehandedly, using various aikido twists and clotheslines – but also, guile and ingenuity. And really, those are just as badass.
An evil Svengali hijacks a train with high-grade weapons. And as luck would have it, Casey Ryback is on board to save the day. But what saves this Under Siege sequel is the stellar cast of supporting players, like Jonathan Banks (Breaking Bad/Better Call Saul), character actor Nick Mancuso and Kurtwood Smith (That 70s Show/Robocop).