Podcast: Play in new window | Download (Duration: 1:07:48 — 62.2MB) | Embed
Subscribe: Google Podcasts | Email | RSS | More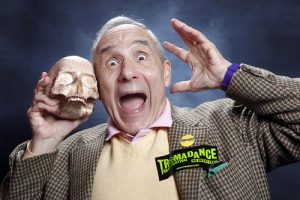 Lloyd Kaufman (born December 30, 1945) is a New York-born film director, producer, screenwriter, and actor and all around mensch.
With producer Michael Herz, "Uncle Lloyd" as he's affectionately known, is the co-founder of the amazing Troma Entertainment film studio, and the director of many of their feature films, including Terror Firmer, Class of Nuke 'em High, The Toxic Avenger and Tromeo and Juliet. If you haven't checked out any of these, you owe it to yourself to do so.
Lloyd Kaufman is the author of All I Needed To Know About Filmmaking I Learned From The Toxic Avenger (with James Gunn), Make Your Own Damn Movie (with Adam Jahnke and Trent Haaga) and The Toxic Avenger: The Novel (with Adam Jahnke). He was kind enough to write the excellent foreword for our book, Death by Umbrella! The 100 Weirdest Horror Movie Weapons.
On this episode Jeff K, co-host of the Really Awful Movies Podcast, got a chance to chat with Lloyd, a guy he's known for quite a while. They cover quite a bit of bit of ground in this interview.
The Troma co-founder talks about the Sony scandal, Troma fans, the state of the movie, industry, Joey Ramone, Troma studios, tattoos, The Toxic Avenger and of course, soul-sucking devil-worshiping mega media conglomerates!!!