Podcast: Play in new window | Download (Duration: 33:06 — 38.3MB) | Embed
Subscribe: Google Podcasts | Email | RSS | More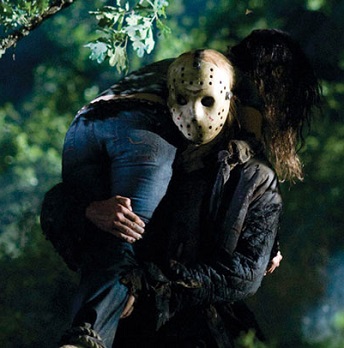 Jason Voorhees. The butcher of Camp Crystal Lake needs no introduction. Or does he? Perhaps to a new generation of audiences, who were unaware of the source material that is the original Friday the 13th movies.
Of course, now Jason is seemingly everywhere, what with the video game developed by IllFonic, and published by Gun Media.
And he's been everywhere before too. This is the 12th film in the Jason oeuvre, if you include Freddy VS Jason (which we do).
And this is as different as our mute machete mate has ever been. Director Marcus Nispel took artistic license with the source material, making Jason Voorhees a kidnapper who was fleet-of-foot. And who actually has an underground lair, and quite an elaborate Xanadu too.
At the end of the day though, this is not a well-made movie. There are two spectacular kills, and a lot of killer filler. And the stupidity ante of these campers is OFF THE CHARTS. So, how does Derek Mears acquit himself as the Masked Maniac? Pretty darn well. It's the rest of the film that kinda blows.
A little backstory.
Friday the 13th (2009) was released in theaters on Friday, February 13, 2009, appropriately enough.
The franchise entry received mainly negative reviews, which is not unprecedented as this series isn't exactly a critical darling. The movie earned approximately US$19 million on its opening night and $40 million during its opening weekend, when it broke two records; the highest-earning opening day for the film series and the highest-earning opening weekend for any horror film.
As of July 2014, it is the second-highest grossing film in the Friday the 13th film series ($65 million), and has earned about $92.7 million worldwide since. Critic Kim Newman opined that the film is "Unlucky for almost everyone. It's a sad day when a Friday the 13th remake is shown up by a My Bloody Valentine remake." (for those who are interested, your intrepid hosts tackled My Bloody Valentine 3D on Ep 86).
But on this week's edition of the Really Awful Movies Podcast, it's time to don the sunscreen and visit Camp Crystal Lake in this installment of Friday the 13th.