Podcast: Play in new window | Download (Duration: 41:28 — 47.9MB) | Embed
Subscribe: Google Podcasts | Email | RSS | More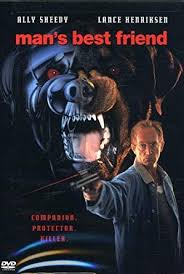 Not so much a shaggy dog story as an angry dog story, Man's Best Friend is a forgotten 90s New Line Cinema release that has an attack dog, Max, who has escaped from a top-secret laboratory run by the always excellent Lance Henriksen.
And you know when good ol' LH is in a horror flick you're in for some top-notch grimacing (and a healthy, heaping dose of menacing too).
Ally Sheedy plays a journalist, who is investigating abuses at an animal lab. She and her producer want a scoop, and sneak into the facility, releasing Max…and Max is an attack dog, genetically modified from bear/tiger/chimp and it should be said, very stupidly, chameleon parts.
The journalist rescues the dog from its pen, only to find out it…is quite vicious and will stop at nothing to attack anyone in its path.
We love our animal attack movies. You give us an animal attacking someone, and we're thrilled. We don't give a crap (or a rat's ass) if it's a rabbit like Night of the Lepus, or a gila monster from that…um…gila monster movie we podcasted. The best ones, of course, are Jaws and Alligator. But even the worst ones have something to commend about them. Especially when, well..Man's Best Friend is involved.
Join us and subscribe to the show!