Podcast: Play in new window | Download (Duration: 33:15 — 38.5MB) | Embed
Subscribe: Google Podcasts | Email | RSS | More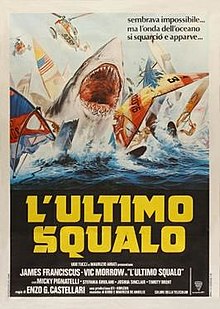 On this week's episode of the Really Awful Movies Podcast, The Last Shark! Also known as Great White, this is a poorly constructed bargain basement contractor version of Spielberg's iconic Jaws. But hell, that's not so bad…as eco-horror animal attack movies are among our absolute favorites to discuss.
This one has a town…and there's an important windsurfing regatta that's been put in jeopardy, thanks to the exploits of a fearsome predator of the deep.
And it's up to the denizens of Port Harbour (yes, really) to take on the killer shark, and marshal their forces to liquidate the creature. Can they? Certainly, especially if they can employ the services of a low-rent Robert Shaw/Quint.
Starring the incomparable Vic Morrow, The Last Shark is directed by Enzo Castellari, and shows very few, if any, of the directorial flourishes of the masterful, incredible Jaws.
But really, does it matter? This one is so much fun, even if the shark looks like an inflatable clown punch-up doll more than a terrifying apex predator.
Clear the beaches! Grab a couple of beers, find a version of this shameless rip-off to watch (Universal took the producers to court the similarities to the Spielberg product are that obvious). And be sure to sign up to the podcast!