Podcast: Play in new window | Download (Duration: 20:29 — 23.9MB) | Embed
Subscribe: Google Podcasts | Email | RSS | More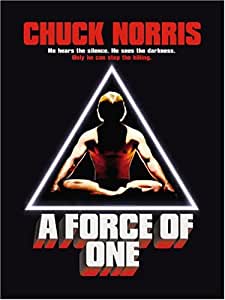 There's only one Chuck Norris. And before Delta Force and Invasion USA (or for that matter, Good Guys Wear Black) there was A Force of One.
Chuck plays Matt Logan here, a sensei who runs a dojo, and is of course, a champion kickboxer.
Logan is hired on as a consultant when members of the San Diego Police Department end up dead, their windpipes cracked by practitioners of a certain deadly art. Three guesses as to which one.
The lieutenant and coroner suspect that the cop-killer (or killers) are proficient in the deadliest of the deadly martial arts, in this case, karate, which was exploding in popularity thanks to the likes of Enter the Dragon and the Chuck Norris co-starrer, Way of the Dragon. And it's up to Chuck as Logan to find out which end is up, and how detectives keep ending up in San Diego Bay as fish food.
This one features an inane criminal drug syndicate subplot, and also b movie genre stalwarts like Clu Gulager (The Return of the Living Dead) and Jennifer O'Neill (Lucio Fulci's The Psychic). And we can't forget Super Fly himself, Ron O'Neal (no relation to Shaq…that we know of) portraying a sleazy on-the-take cop.
Join us on this special edition of the Really Awful Movies Podcast, as we once again jump into the turgid waters of the action movie ocean.
And for those who are interested in some of the nuttier offerings in the genre, be sure and check out Mine's Bigger Than Yours! The 100 Wackiest Action Movies, which features a foreword by Ozploitation kingpin Brian Trenchard-Smith.
The book spans 9 chapters, variously covering categories like Covert Ops, Kick Ass Women, Dystopian Action and much more, but also spanning the globe, featuring many a Filipino-lensed Rambo knock-off.
If we do say so ourselves, it makes a mighty fine Christmas gift.